Winemaking
We specialize in producing award-winning estate Rhône and Bordeaux style wines, as well as our highly allocated Zinfandel.
We have always believed that in order to create great wine, you have to start with great fruit. Steve decided to produce a few barrels of our Lock Vineyard fruit by using a minimalistic winemaking approach. Then after winning several awards and medals for our 2000 vintage of amateur wines, he took the plunge and produced the first vintage of our Écluse Syrah and Écluse Cabernet Sauvignon from our vineyard. This 2001 vintage was released in 2003 and was exceptionally well received. At that time, we didn't have a winery onsite, so we began by making our wines at different production facilities where Steve was able to work with some of the most highly renowned winemakers of Paso Robles, including Matt Trevisan (Linne Calodo), Mike Mooney (Chateau Margene), Roger Nicholas (RN Estate) and Scott Hawley (Torrin). This was a great opportunity to not only gain experience and knowledge, but to also make lasting relationships with these distinguished winemakers.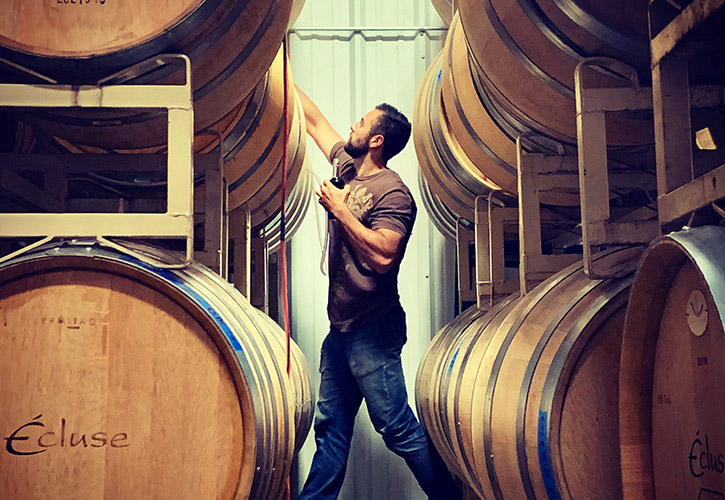 In 2008, we built our own on our property and it has proven to be extremely beneficial to have our winery and vineyard in the same location. The first vintage we made onsite produced our most highly allocated wine to date, our 2008 Cabernet Sauvignon from Lock Vineyard, which received the Sweepstakes Award for Best Red Wine from the San Francisco Chronicle, the largest competition of American wines in the world!
Having our winery onsite gives us the added benefit of picking and crushing small lots throughout the vineyard when the fruit has reached its peak flavors. We are in the vineyard daily, monitoring the development of the fruit where we are able to better assess the relationship of the canopy to the fruit load, the amount of sun exposure on both sides of the canopy and we are able to ensure that the growing environment is as ideal as possible. We normally harvest the fruit over a period of several weeks which gives us better control over the brix levels and allows us to pick the fruit based on the flavor profiles we want. This is a huge factor in producing the balanced and complex wines that Écluse is known for.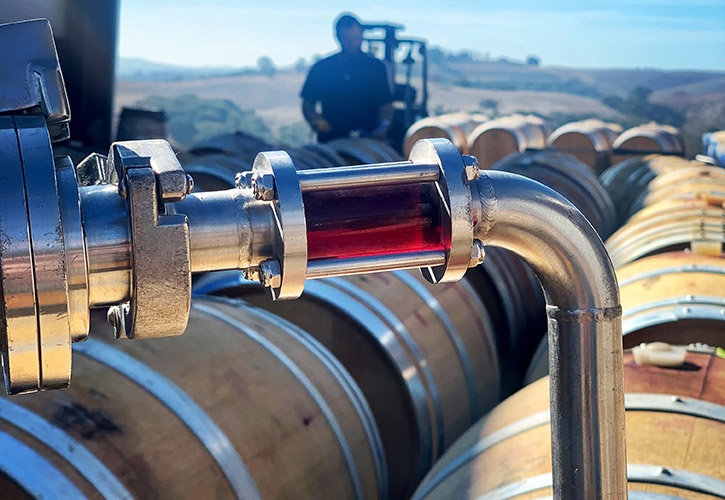 Once grapes reach their peak flavors, they are carefully hand harvested and the winemaking process begins. At crush, we use our sorting table, which allows us to sort the fruit both inbound to the destemmer and outbound to the fermentation bins. This allows us to remove any overripe or under ripe fruit, leaves and stems. We use small open top fermentation bins, which are designed for either one ton or one and a half tons of fruit. We do punch downs to aerate the juice, control temperatures and to add oxygen during the fermentation process, enhancing color and flavor extractions. Once fermentation is complete, we use a small basket press to press the wine, which is then put into barrels.
Our barrel program consists of one-third new barrels, one-third once used barrels and one-third neutral barrels and we use a combination of French, American and Hungarian oak, each one giving us a different flavor profile and tannin structure, adding to the complexity of our wines.
Part way through the aging process, every barrel is individually evaluated, and we begin our blending trials so we can create the best blend of each wine based on the flavors each year. This process can take several weeks or months to ensure we have created the best wine possible. Once the blends have been finalized, they are racked from the barrels and blended into a tank. The barrels are cleaned, and the wine is put back into their barrels for the rest of the aging process. We feel that this adds to the wonderful layers and balance of our wines. This early blending and further barrel aging results in a more integrated, well-balanced, and mature wine that is extremely approachable upon release but will only improve with age.
Not only is Steve in the vineyard daily tending to the grapes, but he also handled all the winemaking duties. Anthony La Duca started with us in 2012 as an intern while he attended Cal Poly where he was majoring in Wine and Viticulture. After his internship, he continued his time at Écluse helping in production and working in the tasting room. Once he graduated, he came aboard full time and became more and more involved in all aspects of production, eventually working with Steve as our Assistant Winemaker. Over the years he started to take over more of the winemaking duties and is now the winemaker full time.
Our passion for making small production wines with our high-quality fruit is evident in every bottle. Having this control from the vineyard to the bottle ensures that Écluse will remain the truly remarkable wine that it is today!